Practice Policy Update regarding COVID-19
Our Staff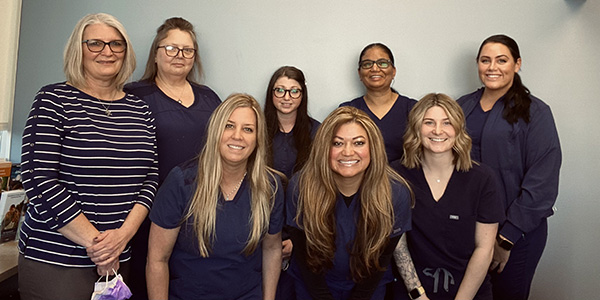 Lacy Ross

Dental Assistant

My name is Lacy, I have been a dental assistant for three years after completing the courses at First Impressions. I'm from Mount Vernon Ohio and I look forward to furthering my career in the dental field as an expanded functions dental assistant. In my free time I enjoy doing anything outdoors and spending time with friends and family.

Megan McArtor

Dental assistant

Meet Megan our Dental Assistant. Megan graduated from The Delaware Area Career Centers Dental Assisting Program in 2006 and currently has 9 years of experience as a dental assistant. She enjoys crafts, home decorating, and spending time with her son and family.

Teressa Mitchell

Office Manager

I am a career dental assistant that has retired to the Front Desk. I feel that when you love what you do, you never work a day in your life. I have had the privilege to work for some of the best doctors out there, Dr. Kaur included. I enjoy helping people and I am going on my 30th year in the dental field. I am a graduate of the Professional Career Institute in Indianapolis.

In my free time, I enjoy my three daughters and my three year old grandson Theo, who I refer to as "Theodorable". In the fall you may hear me ramble about my fantasy football team and of course Ohio State football.

Vidhi Patel

Patient Care Coordinator

I graduated with Masters in Healthcare administration and began my career as Patient Care Coordinator in 2019. I love helping patients with their treatment plans, billing and insurance benefits information. In my free time, I enjoy cooking, traveling, doing yoga and hiking.

Kayla Bowmar

Patient Coordinator

Hi my name is Kayla. I have been in the dental field for a few years now. I am currently in the process of becoming a dental hygienist. I love working with patients and helping them with questions concerning their insurance benefits and treatment plans. In my free time I enjoy reading, fishing and spending time with my husband and our 2 Australian shepherds.

Nada Rhief

EFDA

I achieved my degree in dentistry from overseas and moved to the US in 2018 to start a new chapter in my life. I got accepted at OSU for the EFDA program and graduated in late 2019 and I am in the process of getting into U.S dental school to pursue DDS and get licensed My favorite thing about the dental industry is helping patients feel at ease when in the dental chair. I am a member of the EFDA Organization in Ohio.

When I am not at work, I like to spend quality time with my husband, and my adored Yorkipoo dog, Leo. I also enjoy cooking, trying new restaurants, and camping.

Deanna Wilkinson

RDH

Deanna has been a RDH for 27 years. She has recently moved to Ohio after working at her previous practice for 24 years. Her experience in dental ranges from clinical hygienist to director of a non profit clinic and most recently finished classes to be a Orafacial Myofuntional Therapist.

On her free time she enjoys being around her family, and exploring the Columbus area. She feels blessed to be working for Dr Kaur and her team and looks forward to meeting all of you.