Dental Implants
Solutions for Replacing Missing Teeth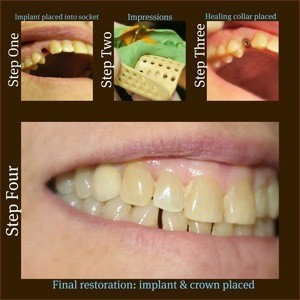 Compared to dentures, dental implants are a more effective and convenient option to address missing teeth. At Northpointe Family Dentistry, our Lewis Center dentist can install titanium pieces to replace the root of a missing tooth and insert a natural looking implant. Each implant is secured to jawbone for long-lasting results that improve your ability to speak, chew, and speak.
The benefits of dental implants include:
Long-term durability and convenience
Protects your healthy teeth
Allows you to continue eating your favorite foods
Does not have to be adjusted or removed constantly
Retains the natural shape of your face and smile
We offer root form, plate form, and subperiosteal implants. Speak with our experienced and knowledgeable dentist to decide which particular dental implant is beneficial for you. If you are interested in Lewis Center dental implants, please give our office a call at .