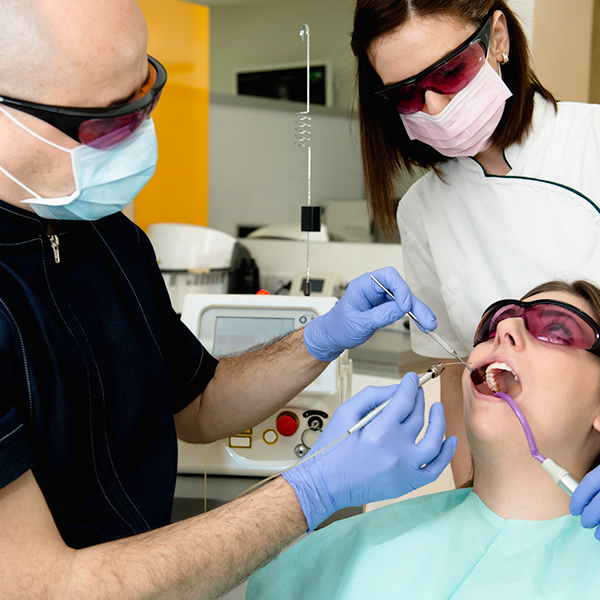 Laser dentistry is an advanced and innovative type of dental care involving the use of a focused beam of light to perform high precision dental surgery. It is a good option for treating a variety of dental conditions. Here are the top 4 benefits of laser dentistry:
Less Pain: Laser dentistry is minimally invasive which means there is less bleeding, reduced swelling and pain, and less sensitivity in the teeth and gums after the surgery. Due to the improved comfort level of the patient, anesthesia may be avoided for certain dental procedures.
Minimal Scarring: The advanced laser technology can be used to selectively cut or vaporize abnormal tissue in the oral cavity while minimizing damage to surrounding healthy tissues. As a result, there is less scar tissue formation.
Lower Risk of Infections: The laser not only cuts tissue precisely but has a sterilizing effect on the tissue as well which lowers the likelihood of bacterial infection at the surgical site.
Faster Healing: The laser also coagulates the tissue that is operated on and so healing occurs much faster as compared to after traditional dental surgeries. You may be able to return to routine activities with almost no downtime after laser dental surgery.
The above benefits make the use of lasers particularly effective in treating the following conditions:
Laser Dentistry for Gum Diseases: Lasers can be used to accurately reshape the gumline in patients with a "gummy smile". It can also help kill bacteria and remove debris from root canal treatment or other types of gum disease treatments.
Laser Dentistry for Cold Sores: If you tend to often get cold sores, laser therapy may be able to reduce the symptoms and frequency of its occurrence. Seeking treatment as soon as you experience the itching, tingling, and painful sensation around your mouth could even prevent the cold sore from breaking out in the first place.
Dental Crown Procedures: Dental lasers can now be used to lengthen the size of your crown to create healthier tooth and bone structures and make it easier to perform tooth restorations.
Northpointe Family Dentistry offers laser dentistry in Lewis Center, Ohio. It is a virtually painless, efficient, and stress-free alternative to traditional dental treatments. If you are anxious about receiving dental injections; or the drill noises and vibrations from instruments at the dentist's office make you uncomfortable, laser dentistry may be the right option for you.
Dr. Rupinder Kaur is a highly experienced dentist with a passion for educating patients about the importance of oral health. She uses state-of-the-art dental procedures and techniques to optimize oral health for all her patients. Her goal is to provide high quality dental care to the community of Lewis Center, Ohio.